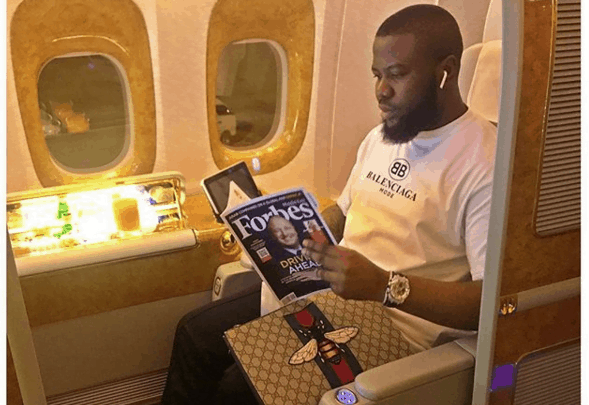 Fendi, last night invited
Hushpuppi
to a dinner, Hush in his statement claimed that he was the only black man at the dinner and every other guest are top people in the society.
He took to his Instagram account to write a speech about the dinner.
"
Last night was really amazing for me, not just because I was invited by Fendi to dine with a lot of amazing, strong societal giants and strong personalities but also the fact that people of my kind from a dark and blurry background from the slums can get here on this level, not only make it out of the hood but also be able to integrate from the streets to the cooperate world which I know I am not the only one who has made it enough to be able to achieve this but a lot of people who made it only still care about being a champion in the street and the hood.
For me I know I was not created to be a champion in a local market and I know for a fact I have been inspiring a lot of people not just from Africa but every part of the world on how to live life better and more greatly in the fashion world, I have been able to expose a lot of people to see the light (You all are welcome lol) and I hope someday I will be inspiring more young people to join me on this path. Being the only black person that was invited there last night, I hope to see many of you black kings and queens in this type of gatherings next time and not just in those your little gossip, hating on each other gatherings
Thank you #Fendi #FF #Fendimania #Dubai #Fashion
See post below:
View this post on Instagram
Last night was really amazing for me, not just because I was invited by Fendi to dine with a lot of amazing, strong societal giants and strong personalities but also the fact that people of my kind from a dark and blurry background from the slums can get here on this level, not only make it out of the hood but also be able to integrate from the streets to the cooperate world which I know I am not the only one who has made it enough to be able to achieve this but a lot of people who made it only still care about being a champion in the street and the hood, for me I know I was not created to be a champion in a local market and I know for a fact I have been inspiring a lot of people not just from Africa but every part of the world on how to live life better and more greatly in the fashion world, I have been able to expose a lot of people to see the light (You all are welcome lol) and I hope someday I will be inspiring more young people to join me on this path. Being the only black person that was invited there last night, I hope to see many of you black kings and queens in this type of gatherings next time and not just in those your little gossip, hating on each other gatherings
Thank you #Fendi #FF #Fendimania #Dubai #Fashion